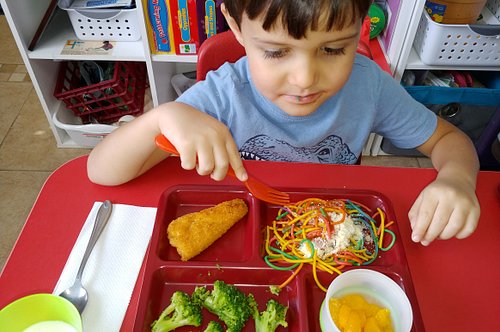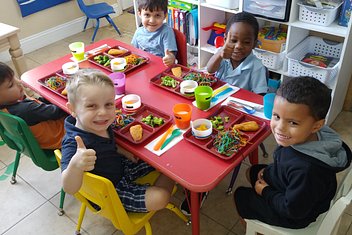 Our childcare center will provide three meals per day from Breakfast, Morning Snack, Lunch, Afternoon Snack, Dinner and Evening Snack. We will supply an extra meal for an additional daily fee of $ 3.00.
This childcare home participates in the Child Care Food Program (CCFP), a FederaI program that provides healthy meals and snacks to children receiving childcare. I believe that teaching children about good nutrition is a wise investment in their future.
The foods that children eat not only affect their well- being & physical growth, but their ability to learn and overall behavior. By serving meals and snacks – family style – I hope to help children learn about the foods they eat, and to understand that good nutrition helps their bodies grow and become strong and healthy.
Parents with infants less than 1 year of age may need to provide formula and I will provide all food/drink needs. Parents should introduce new foods to infants before experiencing in the daycare.
Meals will be provided during the hours stated below:
Meals

Time Frame

Breakfast: Early arrival

7:00 AM - 7:30 AM

Morning Snacks

8:45 AM - 9:15 AM

Lunch

11:30 AM - 12:30 PM

Afternoon Snack

2:30 PM - 3:00 PM

Dinner

5:30 PM - 6:30 PM

Evening Snack

8:30 PM - 9:00 PM

Infants are fed on individual schedules
Non-Food and Food Allergy Precautions
Upon entrance to our family childcare home, all children will fill out an enrollment form that will identify any life-threatening non-food and food allergies that need to be avoided. Food will be prepared separately on days that the said food is served to other children. We have a separate chair and table for children that are allergic to the food being served to other children.
No food from home is allowed unless otherwise agreed upon due to food intolerance (lactose intolerance, celiac disease, and phenylketonuria) or for parties and celebrations in which case items will be purchased from the store. Food brought from home must be approved by the childcare.
We ensure that all breastfeeding families can properly store and label milk for childcare program use. The breast milk at our center is properly labeled. We provide a breastfeeding-friendly environment. We invite mothers to come to the center and nurse their babies, and there is a comfortable place for them to do so.
| | | |
| --- | --- | --- |
| Other special arrangements include: | Childcare Provider | Parents/Guardians |
| Food intolerance: Lactose intolerance, celiac disease, and phenylketonuria) | Breakfast/Lunch/Dinner | Snacks |
| Life-threatening Food allergies | Breakfast/Lunch/Dinner/Snacks | _________ |